Preproduction model shown.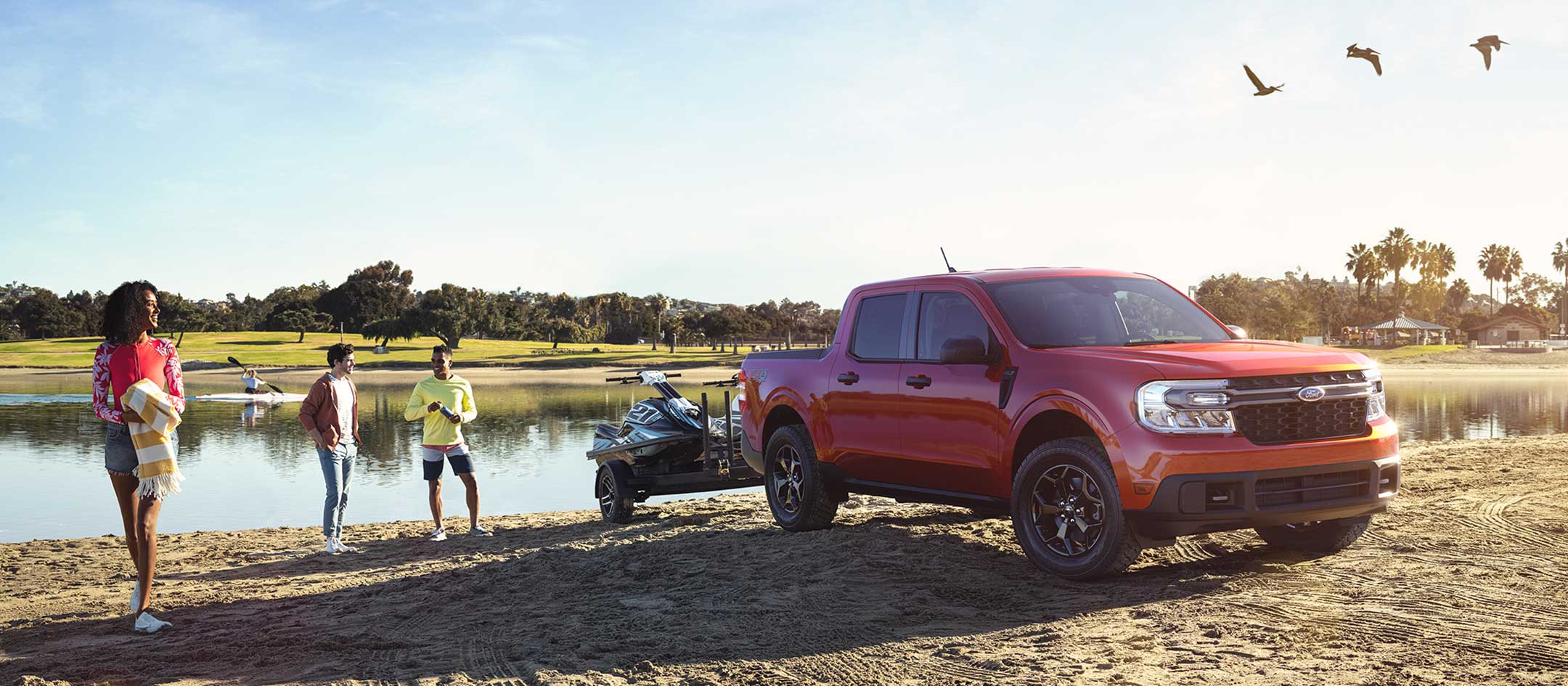 New Ford Mavericks For Sale in Evansville, IN
Shop new Ford Maverick Trucks for sale in Evansville Indiana. Looking for a Ford Maverick Near Me? Our Evansville Ford dealership will have the Ford Maverick XL, Maverick XLT, and Maverick Lariat in stock or we can have one of them in as little as 48 hours. Get the passenger and cargo space you need with a New Ford Maverick Truck from our Ford dealership. Find a Maverick for sale in Evansville just a short drive from Newburgh Indiana and close to Mount Vernon and Henderson Kentucky. See our Ford service areas here. 
New Ford Maverick Trucks at D-Patrick
Buy a Ford Maverick online, and take it home today or have your new Maverick delivered to you. D-Patrick delivers to Southwestern Indiana, Western Kentucky, and Southern Illinois rural communities. See today's real Ford Maverick pricing and Ford Maverick lease offers on every trim level. Find the Ford Maverick you love, and complete as much of the process online with D-Patrick FastTrack. The Maverick is a great Truck to get pre-approved for many credit scenarios, and we can help. Plus, you can sell your car to D-Patrick and get a real cash value. 
Online Reservation FAQs
What is a reservation?
A reservation lets you select your vehicle and be among the first to order a new Maverick truck from Ford. It is not an actual order and does not guarantee delivery.
What steps are required to complete my reservation?
Go online and select "Reserve Now," fill out the reservation form and submit your request to join the list for a new Maverick truck. A confirmation will display after the form is submitted and an email with be sent to the address in the reservation form.
When can I order my vehicle?
We will help you select and build your Maverick truck. We will also help you agree on pricing and finalize your order for production. The Maverick truck ordering window opens at the beginning of June 2021.
When will my vehicle be delivered?
Maverick truck production and deliveries to Ford Dealers will begin fall 2021. Actual delivery times may vary based on configuration selected, residency and demand. Once your vehicle is scheduled for production, you will receive further notification from us about its status.
Am I buying this vehicle directly from Ford?
No. The purchase agreement will be between you and D-Patrick Ford, not you and Ford Motor Company. A deposit is not required from Ford to submit a reservation.
DISCLAIMERS
By completing the reservation process, you are not ordering or purchasing a vehicle. Participation in the program does not guarantee you vehicle delivery. Your reservation does not guarantee a set price for the vehicle.
*2.5L hybrid powertrain. Actual mileage will vary. Final EPA estimated ratings available later in the 2021 calendar year.
** Max payload varies and is based on accessories and vehicle configuration. See label on door jamb for carrying capacity of a specific vehicle.
† Max towing with available 2.0L EcoBoost and 4K Tow Package. Max towing varies based on cargo, vehicle configuration, accessories and number of passengers. EPA-estimated fuel economy, payload and towing are independent attributes and may not be achieved simultaneously.
Apple CarPlay is a trademark of Apple Inc., registered in the U.S. and other countries. Android Auto is a trademark of Google LLC.BANG & OLUFSEN© 2021 and B&O© 2021. BANG & OLUFSEN™ and B&O™ are registered trademarks of Bang & Olufsen Group. Licensed by Harman Becker Automotive Systems Manufacturing Kft. All rights reserved.